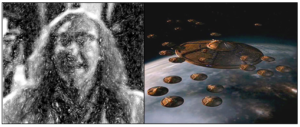 Executive Search Firm Boyle Ogata Bregman (BOB Search) announced today that it has filled the position of Director of Alien Defense for an unnamed Federal agency.  "When we were first approached by the Administration, we thought they meant defending against illegal immigrants, but then they explained this was for extraterrestrial aliens," said CEO Mark Bregman, adding, "so we thought that would be an exciting search."
BOB Search scoured the country for experts on Alien Defense, and found many candidates who knew about Aliens, but not necessarily how to defend against them.  Leading candidates included film producer Roland Emmerich (Independence Day 1 & 2, The Day After Tomorrow, Godzilla), but when it was discovered that he was a German Citizen, the hiring authorities called him off.  Another finalist was Blink 182 Co-Founder Tom DeLonge, who has been researching Aliens for years.  However, it became known that the former punk-rocker had recent contact with former Clinton campaign manager John Podesta, and this caused concerns.
The candidate chosen cannot be named officially, due to the highly classified nature of the program, but we can disclose that he is a nationally known Space Cadet, now living in a fortified compound in Idaho.  The position was originally intended to be located in NORAD headquarters or Cheyenne Mountain, both fortified bases that would feel comfortable to the candidate chosen.  Recently, the Administration has indicated that the role will be based near Mar-A-Lago, in Florida, for unknown reasons.
BOB Search is pleased to have helped keep the USA and the planet secure.
Tags: alien defense, April 1, Bobsearch, executive search, mark bregman