Back to News
Your Perfect Personal Elevator Pitch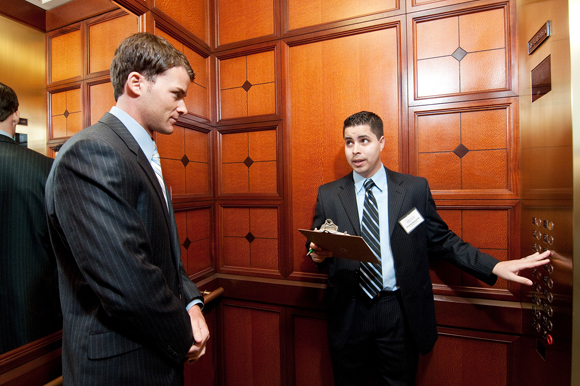 Imagine you are attending a networking event, and someone asks you, "So what do you do?"  Careers can be made on giving the correct answer.
Whether you are in the job market or not, having a well-crafted "elevator pitch" is very valuable.  You can make a powerful and lasting impression, instead of merely occupying time and space in the listener's mind.  If you are an executive, you might make a connection that can help in your current , or down the road in your career.
An excellent elevator pitch has several important elements.  Here are the keys:
Opening:  Have you ever browsed for a book by reading just the first sentence?  Many authors spend days or weeks on just the opening sentence of a great book.  The opening sentence of a 30 second personal statement is even more critical.  You must grab and hold the attention of the listener.
Don't say:  "I'm the VP of for a Control Components company in East Noonecares."
Do say: "I build world class components that keep 60% of commercial planes flying."
Length:  An elevator pitch can be 30-60 seconds.  An average comfortable listener pace is 150 words per minute.  Therefore, you can include 75 to 150 words.  Write it out, and use word count.
Clarity:  Tell a story that is simple, easy to understand, and geared to the audience.  Imagine the listener knows nothing about you, your job, your life or your company.  Write your pitch from the viewpoint of that listener.  No more than 4-6 individual thoughts.
Be Compelling:  Find a way to make it interesting, to stir an emotional response.  Include one critical result or achievement you consider your signature.  Example:  "I take very complex inputs from my clients and offer them solutions they haven't seen yet themselves." It is OK to brag just a bit, and just for this one signature sentence.
Differentiation:  Build in what makes you unique, better, different or special, compared to your peers.
Presentation:  The art of the elevator pitch requires that you memorize your pitch script, then restate it naturally, and with complete enthusiasm.  Practice makes perfect.
Call to Action:  Once the pitch is done, the listener should walk away thinking, I want to know more about this person.  Create a sense of interest and motivation for future contact. "Based on my network and what your company does, I'm confident I can be a resource to you in the future, so hang on to my contact info."
Be ready with a compelling, concise elevator pitch and you will stand out at the next event.
As an example, here is the pitch we use:
There is an Art and a Science to recruiting "A" players who can impact your bottom line.
With 30 years in executive search and talent management, Boyle Ogata Bregman is Bringing Leaders To Smart Companies with our unique Performance Based Search System.
We precisely locate candidates who fit your parameters, do the job, and are motivated by the opportunity. We provide access to people you can't find – highly productive individuals who are now happily working for your competitors. Our evaluation is based on the candidate's capability to produce the specific results you need. They walk in with a plan, and hit the floor running.
Our record is impressive.
75% of our is repeat from satisfied clients and their referrals.
An owner manages each assignment. Our service is comprehensive, and our results are unsurpassed. We have the Art & Science to get it done.