Back to News
How to Plan Your Staffing in a State of Uncertainty

Talent management expert Peter Cappelli has an article this week on Human Resource Executive OnLine entitled The One Thing You Should Do Now.  In this piece, Peter discusses how HR people can help their executives manage uncertainty.  But of course, Peter is a professor, so it isn't one thing, it is actually a five-step thing, and it is described with some complexity!
Not to worry!  The Headhunter's Secret Guide has interpreted it for you!  In simple terms, Peter suggests creating a diagram for possible good and bad outcomes for important things facing your business (like will the economy go up or down, and will we win new work).  THEN, you map all the outcomes together, and decide what that would mean from an HR standpoint.  It looks like this: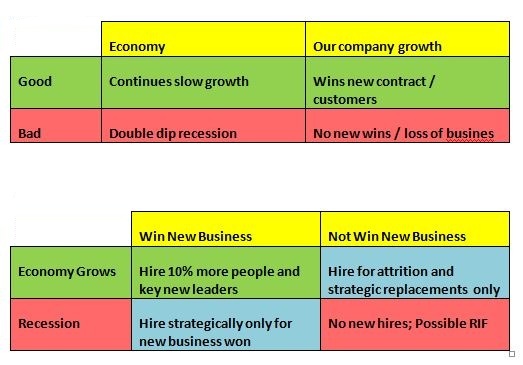 I like this idea, because it deals with different possibilities and alternatives and allows us to consider multiple solutions.  This works for any two sets of important variables that could have different outcomes.  It gives HR people a way to be useful to senior management in an uncertain business climate.
See if this works for you.