Industrial Manufacturing
BOB Search's executive search work in the industrial manufacturing arena is a function of its adjacency to the aerospace and defense markets. Our clients in this industry all have connections within aerospace and defense. We are sought for our expertise in delivering executives with a strong background in manufacturing within the aerospace and defense industries as a result of our reputation for prestige and excellence.
Covering all industrial manufacturing, BOB Search confidently operates in this industry and has a strong history of bringing highly qualified candidates to a variety of companies.
Our recruiters have a developed, in-depth understanding and knowledge within the industrial market to bring top talent to their clients. We maintain constant awareness of market trends and are driven to continuously elevate the level of talent we deliver.  Our expertise extends to all functions within an organization including sales & marketing, engineering, operations, finance, human resources, manufacturing, business development, quality, and technical disciplines.
Our partnerships with clients have resulted in key hires of leaders that guide their company to succeed beyond expectations, as well as complementary cultural fits within the organization.
Boyle Ogata Bregman places leaders in the following functional segments:
Aircraft OEMs
Component / System Manufacturers
Engines
Maintenance, Repair, and Overhaul service providers
Aerostructures
Composites
Electronics
Defense Contractors
Unmanned Aircraft (UAS)
FAQ
What is your reputation within the industry?
Our reputation is unsurpassed in the aerospace and defense sector.  Most of our business arrives via referral from satisfied and repeat customers.  Our clients include global multi-billion public companies, private equity-owned independent businesses, and everything in between.  We work nationally across the US, internationally in Europe, and locally in Southern California. Please see OUR CLIENTS page to learn more.
What is the BOB Search Process and how does your executive search firm differentiate from the rest?
We will develop a performance-based position profile that focuses on the specific results you need from the position. This helps us as a recruiting tool as it attracts the passive candidates and cleanly evaluates each individual candidate to ensure a precise fit. We then develop a pipeline of 200+ candidates who will be a precise fit for this search. We reach out in multiple ways until we have contacted 70%+ of the candidates.  From there, we find 10 prospects and submit the 3-5 best candidates. This includes a detailed candidate summary of their entire work history, their compensation, and relocation issues, as well as their resume. You will have every detail needed to make a decision.
BOB Search is a name that is known amongst candidates in aerospace and defense. They take our calls, they return our calls, and they give us referrals (and confidential references) because we are a trusted name in the market. Please see OUR PROCESS page to learn more.
How long does the search take?
A full search process can be completed in 3 months. The first half of that time is our sourcing, recruiting and submitting a slate of candidates, and the second half is the employer processing time, including first and second interviews, referencing, background checks, extension and acceptance of offer, candidate giving notice, etc.
Can you explain the advantages and disadvantages of retained and contingency firms?
Retained search provides greater value than contingency in many ways.  Here is a comparison: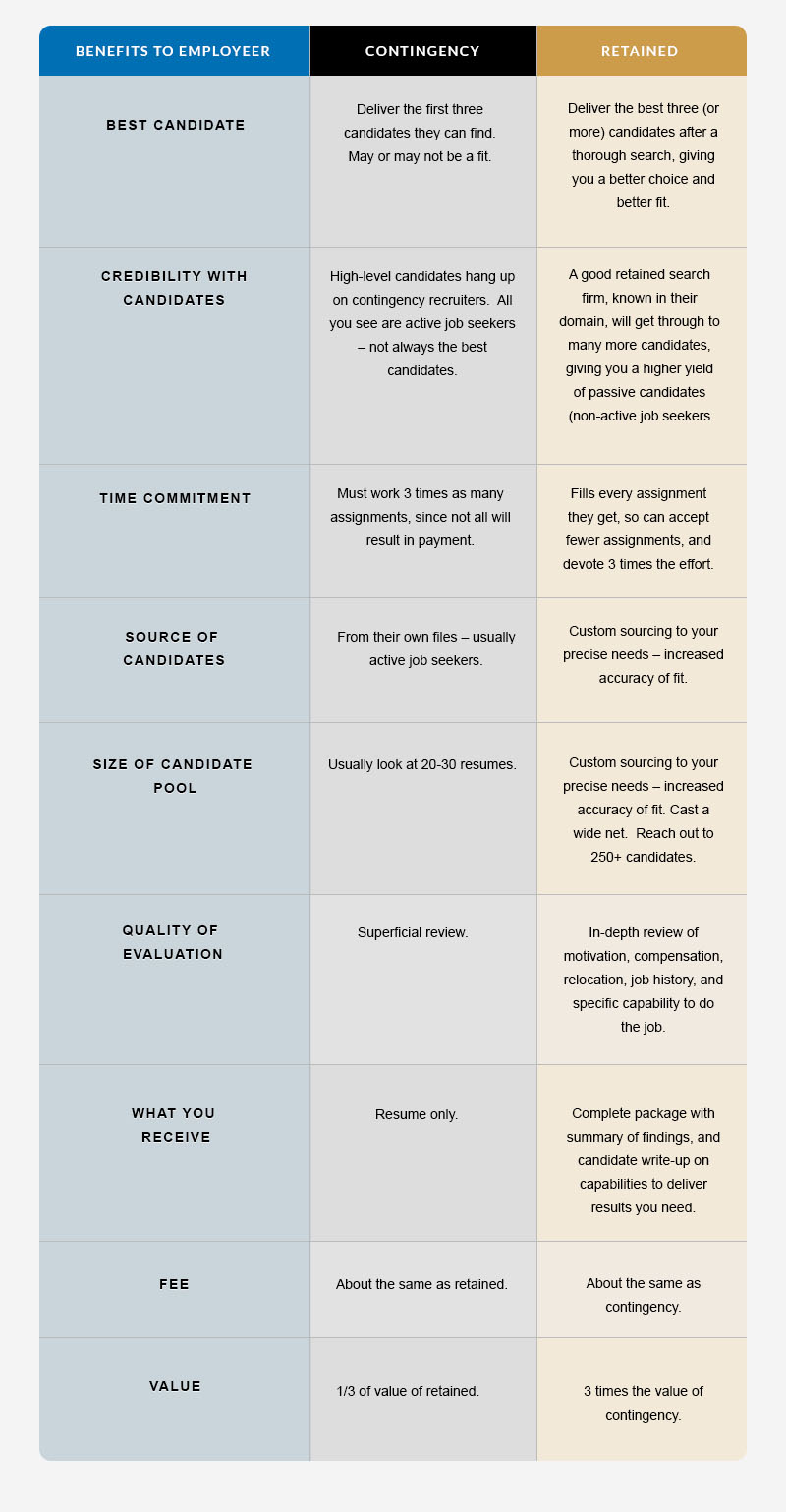 Have you done any searches within manufacturing?
We do searches in several of leadership positions in Aerospace, Defense, Technology, and Industrial Manufacturing every year. They vary depending on the client needs, but the sourcing process we complete to precisely identify who you need in this role is the same on every project. We will find candidates that can do your exact role and ensure that the candidates we submit are of the highest caliber.
We are a boutique executive search firm that exclusively serves the Aerospace, Defense and Industrial Manufacturing industries. We complete between 40 and 60 searches per year across all business functions including engineering, sales and marketing, human resources and operational leadership roles, for C-level and executive leadership positions.
What is your success rate?
When an employer client is committed to making the hire, our success rate is 90%+.  Occasionally our clients discontinue a search due to their own internal business decisions.
When can we expect to see candidates?
Although our contract states we deliver candidates within 6-8 weeks, we aim to deliver closer to 4-6 weeks.  Naturally, when targeting passive candidates and building a pipeline of 200+ people, it takes a little longer for them to respond than a typical applicant pool.
You will find that the standard time for a retained search is about 3 months. Half of this time is your time. We are presenting a candidate slate to you, and the remainder of the time is spent with interviews, extending an offer, and waiting for a candidate to give notice to their current employer.
What is your process for becoming familiar with our company culture?
We will do an in-depth analysis of your company, including a site visit when possible, conversations with your key executives and stakeholders, and completion of our unique 18-point questionnaire.  Our candidates tell us that we know our clients and the search parameters better than any search firm they've experienced previously.  This ensures a great fit in your company.
Contact
Over the past 40 years, BOB Search has taken a unique approach to executive search within the aerospace, defense, and industrial manufacturing industries. Using our Performance-Based Search System, BOB Search brings leaders to smart companies. Call 949-220-0896 or contact BOB Search (hyperlink to direct email – will provide) to begin recruiting your next leader.
Being a Vice President of Human Resources for over 30 years and being with three fortune 100 companies, it was evident to the successful key executives that I worked with during these years, that selecting high-performance team members to the company was one of the most important tasks we as executives "must do" to effectively manage and profitably grow our business. In all my years of using recruiters (headhunters), retained…VP of Human Resources & Organizational Development – Aerostructure Mfg./MRO/Spares

During my tenure as the Sr. VP Sales & Marketing, I hired Mark for a total of 10 searches for positions at the Vice President, Director and Senior Manager level from 2003 to 2006. Mark was already familiar with the industry, and rapidly gained a solid understanding of us including the organization, strategy, and key goals and objectives. This gave Mark an excellent feel for the type of individual we…SVP Sales & Marketing – Aircraft Ducting/Vent Mfg.

Mark Bregman has done several retained searches for me over various employments and he has always delivered high quality candidates.VP Sales and Marketing – Mfg. of high-end tactical tools for the defense indsutry

I have used executive search firms for C-level retained searches for over twenty years. Without a doubt, Boyle Ogata Bregman stands in a league of its own. I have never before received the level of responsiveness, intelligence, practical advice, and rigor they deliver in their process. Where many other firms go through the motions, seek "low-hanging fruit," and hope something sticks that will generate a fee, Boyle Ogata Bregman digs…Owner- Investment Banking/Corporate advisory firm

The team at BOB Search are expert headhunters in the Aerospace/Aviation industries, in addition to other technical sectors. I know from firsthand experience that this firm is exceptionally thorough on research and performance fit. Highly recommended; we'd consider it a privilege to work with them again.Chief Executive Officer- Aerospace holding company for various aerospace companies

I have known Michael for several years now, having sat on both sides of the table; from both a potential hiring, as well as a personal job relocation perspective.  Michael is a professional, and treats his contemporaries and clients in the same manner.  I hold Michael in the highest regard, and would recommend him and his company's services without question.President and CEO- Mfg. of Hydrualic, Electrical, Mechanical Systems for Aerospace

I have known Michael Boyle and the BOB team for a few years and I have found them to be very professional and they produce results! Their Search System is extremely effective and provides client companies the confidence that they are hiring the Right person for the Right role. I recently used BOB for a senior level role in our division and BOB commenced an exhaustive process that produced multiple…CEO – Aerospace Component Mfg.

Reading your newsletter, I am in full agreement with how you describe your methodology, and the messages that Mike and Mark put forth in the video-you guys are the best in the business. We would not have achieved the performance levels that we did (in the time that we did) without the talent that your firm delivered. Let me express my gratitude at this time for your professionalism and your…President and CEO- Precision Machining Provider

I enjoyed working with Mark. He didn't lose patience with us when we wanted to keep looking for more candidates, was always available and answered all our questions, his evaluations were spot-on and insightful, he worked hard to understand our needs and find the right candidates and he was always professional in his communications.President- Aerodynamic Testing Solutions Company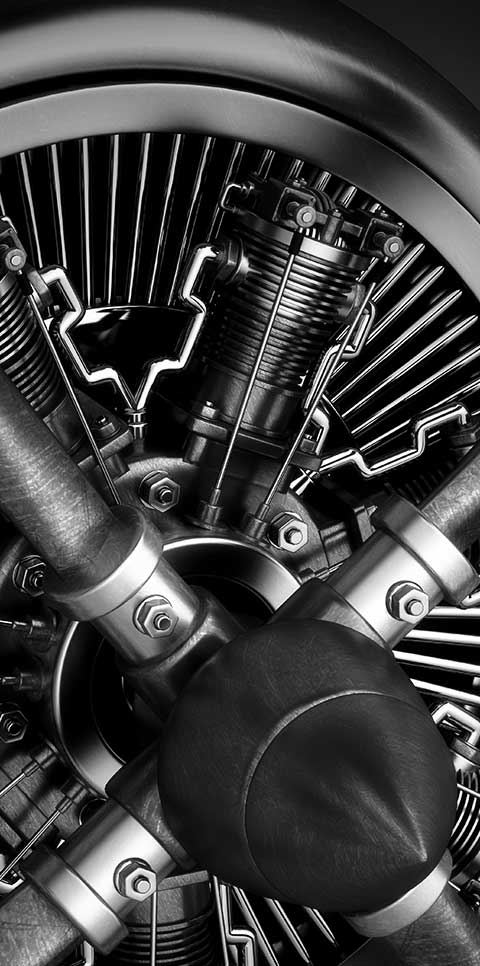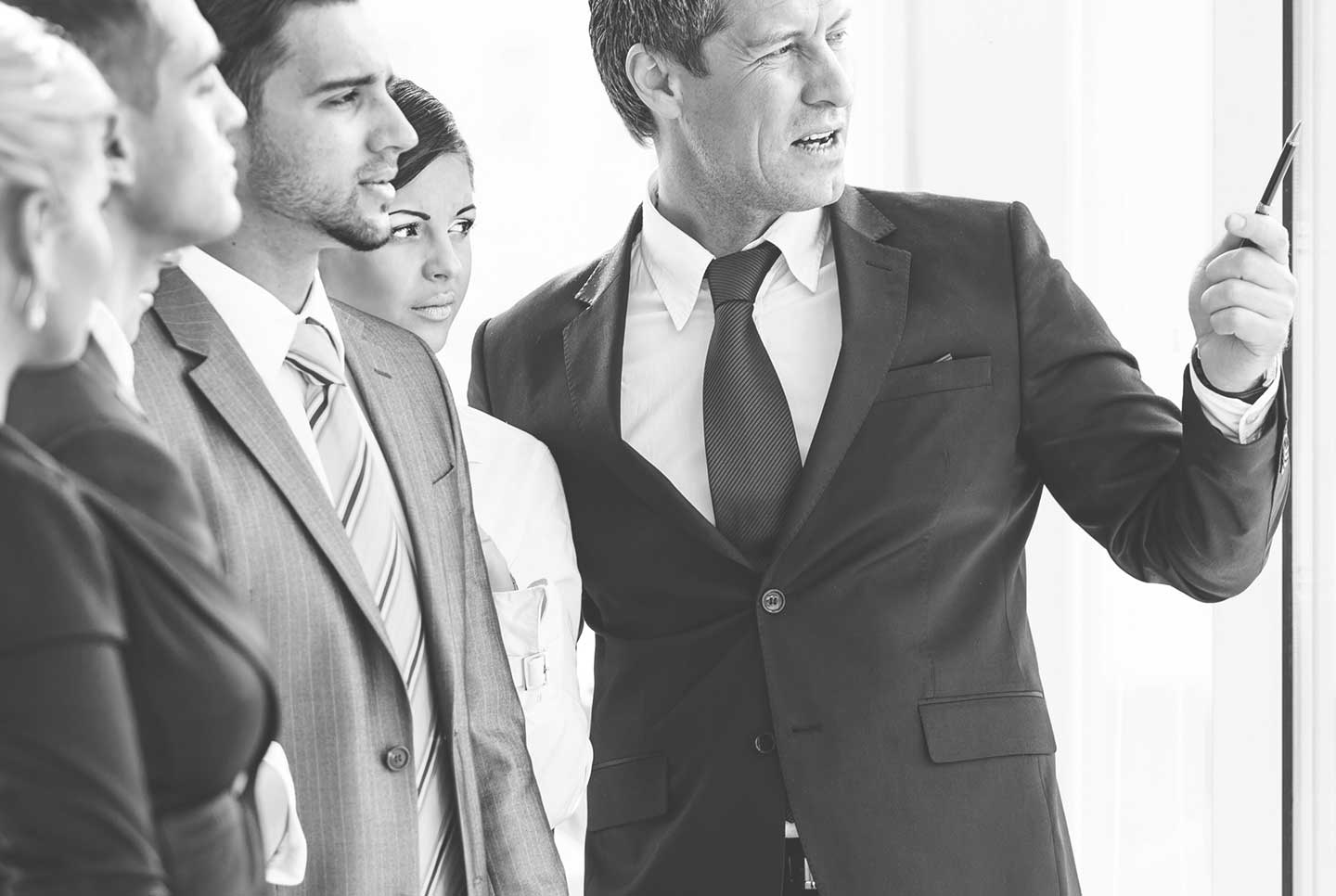 Ask New Questions – Build New Value, an article by Larry O'Toole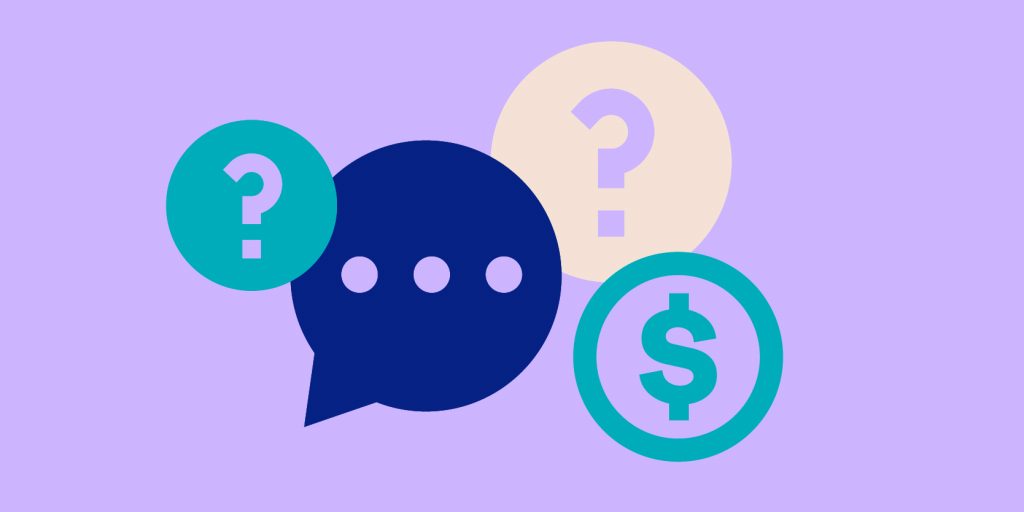 Ask New Questions – Build New Value, an article by Larry O'Toole
"Is the dialog you're having internally with employees and externally with customers & suppliers vibrant and fresh or has it become stale?" As a business owner/CEO, if you're not happy…...
Will You Relocate for Your Next Opportunity?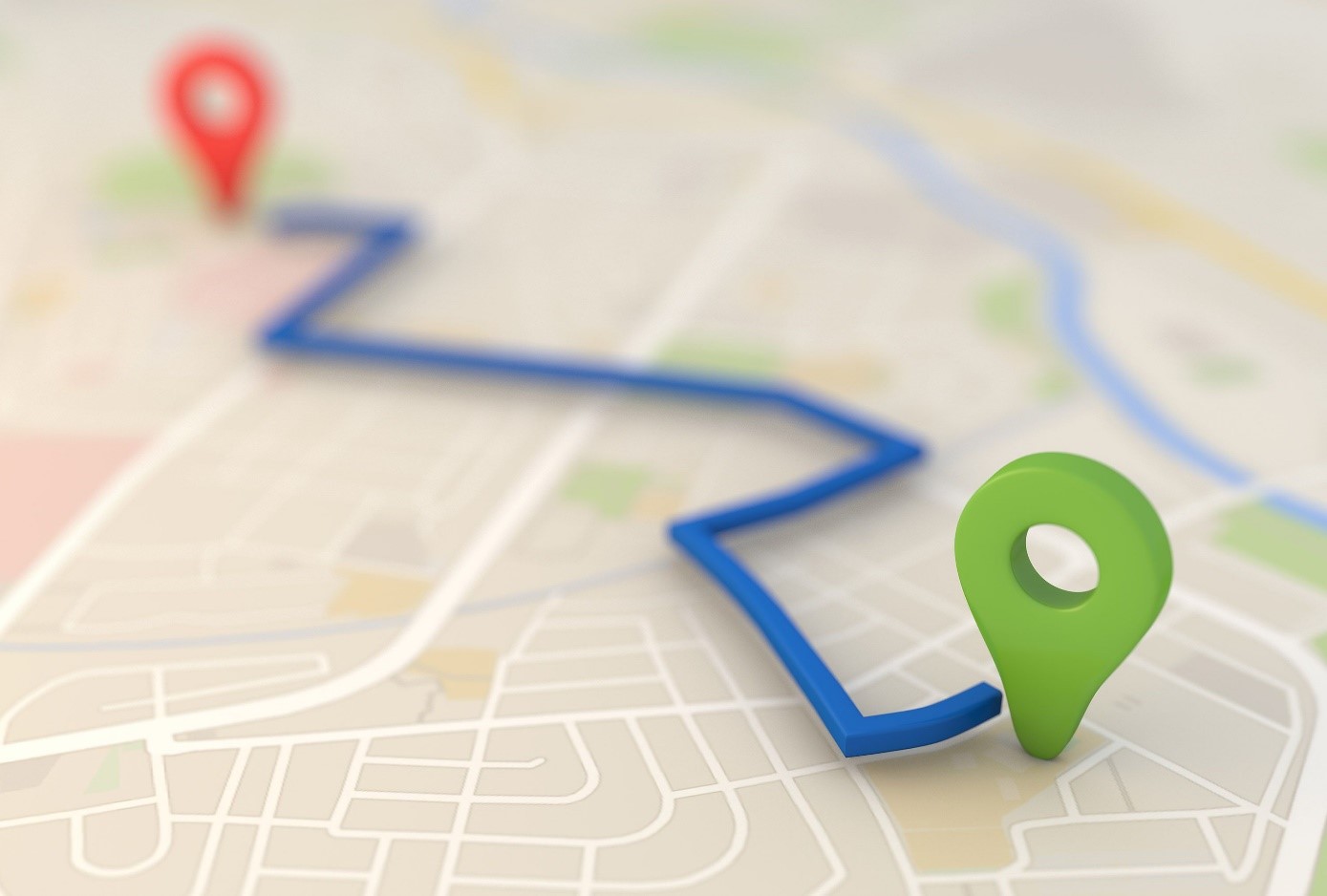 Will You Relocate for Your Next Opportunity?
Fewer and fewer Americans are moving to pursue better job opportunities around the country. The decline in mobility across the nation has had a glaring impact on recruitment and transferring…...