Private Equity Recruiting
BOB Search is the leader in private equity recruiting. We understand that private equity investors often need to fine-tune or optimize the performance of the management teams in their portfolio companies. The same applies to family-run businesses and institutional investors. That is why we are the preferred choice for private equity executive search.
Over the past 40 years specializing in the Aerospace & Defense sectors, we have developed an understanding of what it takes to be successful within the private equity environment: a sense of urgency, hands-on and able to execute without major infrastructure and support, and highly adaptive to quickly prepare a company for its next transaction. We will deliver the candidate that can execute your expectations.
Utilizing our industry leading Performance Based Search System, we are quickly able to identify, evaluate, and attract executives for these portfolio companies who will maximize shareholder value and accelerate transactions.
We have completed private equity executive recruiting projects to the Aerospace, Defense, and Manufacturing industries for the following functional disciplines at the senior executive level:
Operations
Sales, Marketing, and Business Development
Finance and Accounting
Engineering / Research and Development / Manufacturing
Quality
Human Resources
Supply Chain
---
We support placements at the board level, C-level, President/GM, VP and director level.
Our veteran retained executive recruiters and account executives are the experts in private equity executive search and organizational consulting. Our refined approach allows us to support growth within the organization by providing strategic placement within the senior management team, or an objective, expert evaluation of the current management team.  Our Performance Based Search System was created to provide "A" players who can produce specific, tangible results that impact your company's future success. 
Regardless of investment strategy, company size, or location, we understand private equity recruiting and the nuances of each investment. We work collaboratively with our private equity, family run business, and venture capital clients to place the right leaders that fit the specific, unique requirements of each search.
FAQ
What is your reputation within the industry?
Our reputation is unsurpassed in the aerospace and defense sector. Most of our business arrives via referral from satisfied and repeat customers. Our clients include global multi-billion public companies, private equity-owned independent businesses, and everything in between. We work nationally across the US, internationally in Europe, and locally in Southern California.
Please CLICK HERE To See Our Clients Page To Learn More.
What is the BOB Search Process and how does your executive search firm differentiate from the rest?
We will develop a performance-based position profile that focuses on the specific results you need from the position. This helps us as a recruiting tool as it attracts the passive candidates and cleanly evaluates each individual candidate to ensure a precise fit. We then develop a pipeline of 200+ candidates who will be a precise fit for this search. We reach out in multiple ways until we have contacted 70%+ of the candidates. From there, we find 10 prospects and submit the 3-5 best candidates. This includes a detailed candidate summary of their entire work history, their compensation, and relocation issues, as well as their resume. You will have every detail needed to make a decision.
BOB Search is a name that is known amongst candidates in aerospace and defense. They take our calls, they return our calls, and they give us referrals (and confidential references) because we are a trusted name in the market.
Please CLICK HERE To See Our Process Page To Learn More.
What will the performance based position profile look like for my search?
While all of our profile are custom and all vary, we do have sanitized examples to illustrate the comprehensive profile you will receive. Please click links below to see examples:
POSITION PROFILE EXAMPLES
How long does the search take?
A full search process can be completed in 3 months. The first half of that time is our sourcing, recruiting and submitting a slate of candidates, and the second half is the employer processing time, including first and second interviews, referencing, background checks, extension and acceptance of offer, candidate giving notice, etc.
Can you explain the advantages and disadvantages of retained and contingency firms?
Retained search provides greater value than contingency in many ways. Here is a comparison:
BENEFITS TO EMPLOYER
CONTINGENCY
RETAINED
BEST CANDIDATE
Deliver the first three candidates they can find. May or may not be a fit.
Deliver the best three (or more) candidates after a thorough search, giving you a better choice and better fit.
CREDIBILITY WITH
CANDIDATES
High-level candidates hang up on contingency recruiters. All you see are active job seekers – not always the best candidates.
A good retained search firm, known in their domain, will get through to many more candidates, giving you a higher yield of passive candidates (non-active job seekers)
TIME COMMITMENT
Must work 3 times as many assignments, since not all will result in payment. Gives you one third the effort.
Fills every assignment they get, so can accept fewer assignments, and devote 3 times the effort.
SOURCE OF
CANDIDATES
From their own files – usually active job seekers.
Custom sourcing to your precise needs – increased accuracy of fit.
SIZE OF CANDIDATE
POOL
Usually look at 20-30 resumes.
Cast a wide net. Reach out to 250+ candidates.
QUALITY OF
EVALUATION
Superficial review.
In-depth review of motivation, compensation, relocation, job history, and specific capability to do the job.
WHAT YOU RECEIVE
Resume only.
Complete package with summary of findings, and candidate write-up on capabilities to deliver results you need.
FEE
About the same as retained.
About the same as
contingency.
VALUE
1/3 of value of retained.
3 times the value of contingency.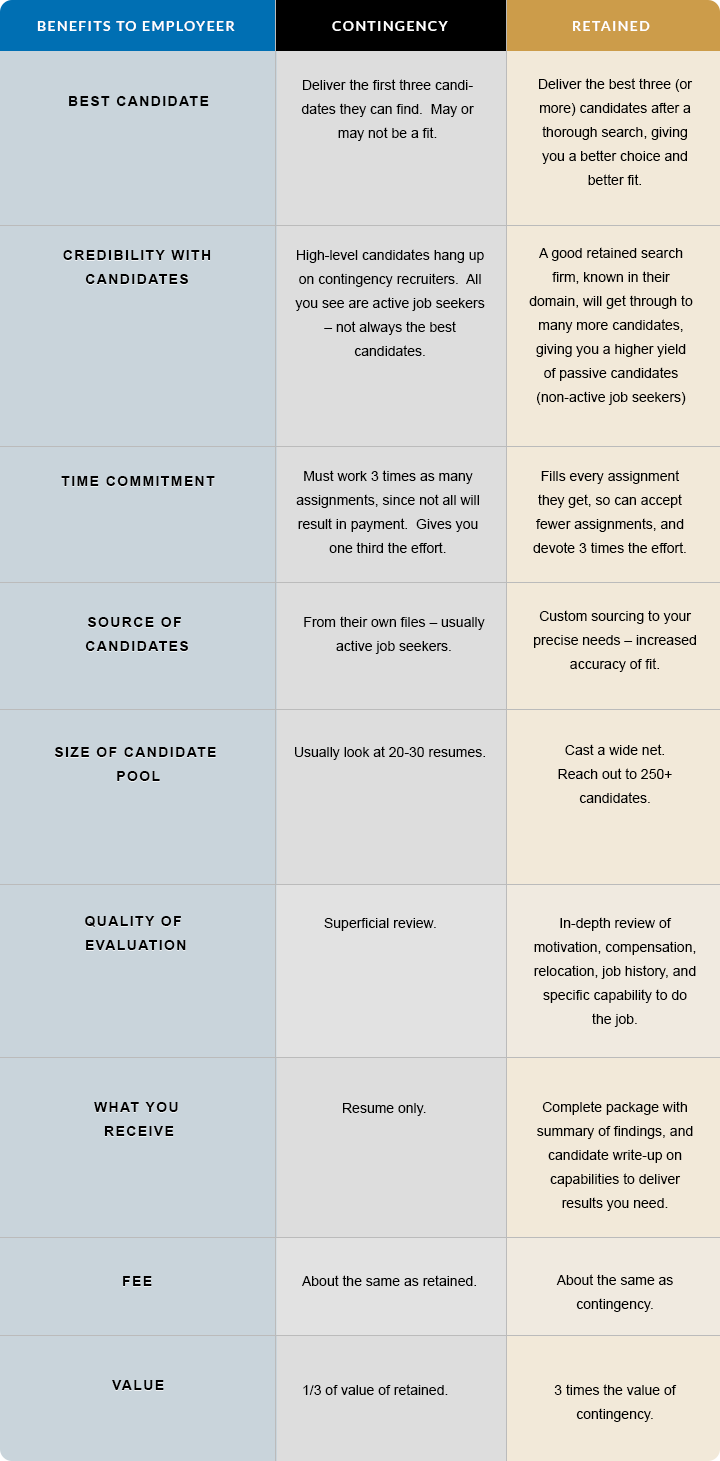 Which industries do you specialize?
We do searches in several leadership positions in Aerospace, Defense, Technology, and Industrial Manufacturing every year. They vary depending on the client needs, but the sourcing process we complete to precisely identify who you need in this role is the same on every project. We will find candidates that can do your exact role and ensure that the candidates we submit are of the highest caliber.
We are a boutique executive search firm that exclusively serves the Aerospace, Defense and Industrial Manufacturing industries. We complete between 40 and 60 searches per year across all business functions including engineering, sales and marketing, human resources and operational leadership roles, for C-level and executive leadership positions.
What is your success rate?
When an employer client is committed to making the hire, our success rate is 90%+. Occasionally our clients discontinue a search due to their own internal business decisions.
When can we expect to see candidates?
Although our contract states we deliver candidates within 6-8 weeks, we aim to deliver closer to 4-6 weeks. Naturally, when targeting passive candidates and building a pipeline of 200+ people, it takes a little longer for them to respond than a typical applicant pool.
You will find that the standard time for a retained search is about 3 months. Half of this time is your time. We are presenting a candidate slate to you, and the remainder of the time is spent with interviews, extending an offer, and waiting for a candidate to give notice to their current employer.
What is your process for becoming familiar with our company culture?
We will do an in-depth analysis of your company, including a site visit when possible, conversations with your key executives and stakeholders, and completion of our unique 18-point questionnaire. Our candidates tell us that we know our clients and the search parameters better than any search firm they've experienced previously. This ensures a great fit in your company.
Learn About Our Private Equity Executive Search Process
For further discussion on how BOB Search can assist you with your executive hiring needs, please visit our contact us page for additional contact information.